May 1st, 2005
My friend, co-worker, and fellow marathoner Julie has an older sister named Susan. Susan shares a lot of the same qualities as Julie; kind, sweet, fun to be around, and the sort of person that you never forget. One big difference, though, is that Susan had a brain tumor the size of a grapefruit removed from her head about a decade ago.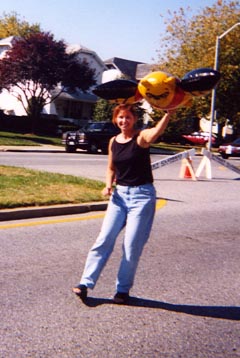 I can't imagine a world without Susan; the nightmare that Julie and her parents went through is just too hard for me to think about. Susan's one of the lucky ones, though. She still has hardships from the tumor and the surgery to remove it, and it's something that changed her life forever. But running in the Race for Hope 5K this morning, which benefits the Brain Tumor Society, once again really brought home for me that a life that's forever altered is far better than not having a life at all. It's always emotional to be there, with all of the "In Memory Of" notices pinned to people's clothing, or personally made t-shirts with pictures and words of memory for everyone to see.
There are a lot of people running and walking in memory of small children. You'll see entire families turning out to remember a single member. This year it was a mother and her very young daughter running for a lost husband/father that got me choked up early on. Running down Pennsylvania Avenue and past the Capitol Building, I kept my eyes open for people wearing yellow Race for Hope t-shirts; the yellow ones are specifically for brain tumor survivors. Seeing them there would always catch my breath, and make me think of Susan and how proud I was to have a sheet stating "In Celebration Of" attached to my back with her name on it. The run was ultimately for her, and for Julie, and her family, and everyone else whose lives have been touched by the horror that is a brain tumor… but most of all, it was for Susan, who beat the odds and survived.
I'd told myself that I'd run a 9:15min/mile average for the race. Susan used to be a super-fast runner so hitting that time would be a good challenge for me. When I hit the first mile marker, my watch blinked back a 9:44 time. Not good. I sucked up my strength and pushed through the rest of the race, ignoring a stitch in my side that showed up somewhere around the two-thirds mark. As I got closer to the finish line it was saying, "Slow down, take your time." Then I pictured Susan hitting me with her Winnie-the-Pooh balloon that she carted around during the Baltimore Marathon and yelling, "Come on, slacker, you're almost there!" She's a tough taskmaster. And in the end, a 27:45 (or 8:57min/mile) finish time was waiting for me. It felt good to finish, and I thought to myself that this new PR was a great way to honor her.
Susan forever rocks my world. And she knows it.