March 14th, 2004
Got up far too early this morning and headed downtown to take part in the 16th Annual St. Patrick's Day 10K here in Washington DC. I ran this last year, my first real "short race" after two marathons the previous years. This year was a little colder and windier, but I felt obligated to take part in it again, my introduction to the world of races that are much more reasonable distances. Julie, Pam, and Amanda all ran it with me, which was an added bonus; having someone to run with makes a 6.2 mile slog much more interesting.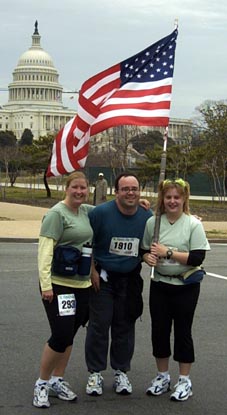 Since I've been very slack since the Marine Corps Marathon back in October in terms of running, I'd figured that just running this would be a good jumpstart to getting back into shape for a new training season beginning in May. (Yes, another marathon. I'm nuts. I know that.) I need these little incentives.
The course was a little different this year—no loop up near Union Station—but otherwise it's the same old course that most 10Ks in this area use. That's fine by me, because I like seeing the familiar landmarks as we stomp along. We're always towards the very end of the pack of runners (to put it mildly) so you've got to find other things to amuse yourself. ("Oh look, it's that place that has brunch at E and 2nd Street SW that we really should go to!" "Look out for the jaws of death!" And all the other standbys.) This year the hill up L'Enfant Plaza felt tougher than normal, a clear sign that I have not been out on the W&OD Trail or even in my own neighborhood running like I should. It's an easy hill, so huffing and puffing is a bad thing.
But still, a good time despite losing Amanda around mile 2.5. She was never too far behind us, though, so ever time the trail doubled back on itself we had a chance to cheer her on. There was one guy who was running with a flag on his shoulder and towards the end Pam asked him if his arm was sore. His response was to let Pam try holding it, and even snapped a picture of us near the Capitol. (I look like a hunchback in this picture, but oh well.)
The nice thing was that even out of shape and with a little extra weight than normal currently being carried around, I trimmed a tiny bit of time off of previous 10Ks. Yeah, it was under two minutes of time, but I was still happy with the end result. (Lopping off 15 seconds per mile isn't as easy as it sounds!) It always feels nice to get a new Personal Best.